Last summer, Silvio had a depressive episode that lasted for months. For a long time I did my best to be strong, but when he finally came out of it I absolutely crashed. I had no energy and I was depressed myself. It went on and on and after awhile it even grew into a spiritual darkness. I could tell that not only was I in a time of dryness; I was under attack. I felt so dark. Depressed and angry and overwhelmingly so, for a solid month after the worst of Silvio's episode had passed. I could tell no reason. I kept praying. But it was so dry. I cried at church because I didn't care about it but I wanted to. I didn't even care that Yeshua went through such agony for me. All I could do was tell Abba I wanted to care but I didn't and was so miserable even though life around me seemed amazing.
A friend and I went to a praise fest up at the Cross on the Hill* one day. Immediately upon arriving I felt a peace I had forgotten even existed. Just being there. Then the priest talked about how the world is getting darker and darker because the devil sees the coming of Yeshua–what an exciting thing!–and wants to crush it. But Yeshua already crushed darkness, and we must invite the Holy Spirit into our hearts so that we can be so on fire with Him in the midst of this darkness so as not to be defeated by it. Yeshua was in the darkest darkness when He conquered that very thing. He conquered it in the brutal darkness of the cross.
It was so powerful to hear those words which felt as though they were meant just for me, while the priest spoke under the cross towering over him, now in such absolute peace.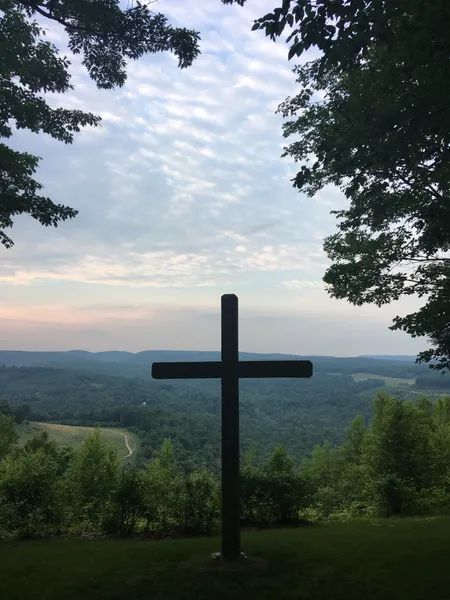 Then there was a time of prayer, and I came away feeling so free, so washed in goodness and light in a way I hadn't known in so long.
In the following days as I faced the fear that all that darkness would come back, Abba helped me to remember to praise and thank Him constantly, for those are weapons that Satan absolutely fears. "Whoever keeps singing of your majesty higher than the heavens…you make him a fortress, firm against your foes, to subdue the enemy and the rebel." – Psalm 8:1-2 "Rejoice always, pray constantly, give thanks in all circumstances; for this is the will of God in Christ Jesus for you." – 1 Thessalonians 5:16
I met with my spiritual director (I'm calling him Fr. Matt from now on) within a few days of that praise fest. We talked about what I'd been going through and he told me that the devil strikes harder when God's about to do something particularly wonderful. Have courage and hope.
The neat thing was, I did have a sense that God was about to do something huge–and with that, Silvio and I had been under spiritual attack for months. Both of us had longed to do ministry since before we met each other, and once we got married the desire intensified. It was a calling that wasn't just another thing to do; it was part of our marriage.
It was very soon after this that God gave us the gift of a full time job doing ministry–seemingly out of nowhere. It came right when our financial needs were increasing, it filled the longing in our hearts, and it put us where we could do what God made us for. It was a job that not only could Silvio handle despite his depression; it was the sort of work he absolutely thrives in. We even got to move from a stuffy city apartment back to a woodsy area where my soul can breathe. We live in a church and I even have a room just for my painting. We feel like we're right where God wants us, and we can work together in ministry, witness to marriage, be a team for God's Kingdom in a way so perfect for who we are.
In a way, as I look back on all that really hard time of attack, it's really validating. If the devil attacks things that are a threat to him, that is a sign to me that God really wants to use us and I am so honored by that.
If you made it this far, please say a prayer for Silvio and me! We love what we do and feel so fulfilled by it. We try to let the Holy Spirit guide all our work. But we feel the attack forces all the time too. We are trying to help people get to know God more and more deeply through a good church community, and the enemy does not want that.
Praise God for His provisions and for using us in ways we thrive.
---
*http://www.theholyfamilyinc.com/history_of_the_cross_on_the.htm
Comments
comments