Charles-André van Loo was born on February 15, 1705 in Nice, France. He painted religion, mythology, history, allegory, portraits, and genre scenes, and is considered to be the most famous in a whole dynasty of Dutch painters.
Van Loo was a member of the Académie Royale de Peinture et de Sculpture and became quite influential there. His own simplistic and real style did much to affect the style in the school.
In The Adoration of the Magi, notice how clear-cut and sharp the subjects are, yet how soft the scene. Notice too how the Christ Child is depicted as entirely white, signifying His own purity and holiness.
Below are shown Theseus Taming the Bull of Marathon, Virgin and Child,
and The Victory of Alexander of Porus.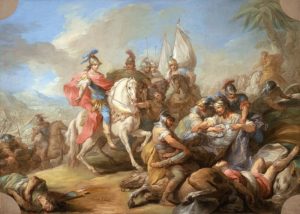 Comments
comments