A reflection on the 23rd psalm.
Yahweh is my shepherd. I lack nothing. He fills me right now with all I need to love, to be loved, to be at peace. He is my shepherd and he protects me and shows me the way.
In grassy meadows he lets me lie. He fills me with delights–literally in nature–where my soul can experience rest. In meadows of peace, with a breeze and birdsong. He lets me lie there in his arms. He lets me lie and not strive, he gives me a retreat when suffering comes so that I can just lie on his breast and be comforted by the sound of his heartbeat.
By tranquil streams he leads me to restore my spirit. To restore my spirit. He wants me to thrive, and he knows where to take me to restore me. I just need to follow him trustingly and he'll take me by these tranquil streams, the water trickling along gently in a voice of rich and healing care from Abba. Following him, I'll find the only way that will soothe my soul.
He guides me in paths of saving justice as befits his name. He protects me from all evil if I'll only stay close enough to him to fit under his arm of protection. That means following him closely, even when it means following him to the cross. There will be pain with or without him. But with him, I have him to share the pain. And with him, I am protected from evil. He guides me not only away from evil, but toward and through what will make me more like him–and I must follow closely, watch how he loves up close, and love exactly that way in order to be saved, to be protected from evil.
Even were I to walk in a ravine as dark as death I should fear no danger, for you are at my side. Your staff and your crook are there to soothe me. Abba, you'll protect me as much in the danger as you will in the safety. You'll protect me with more effort in order to keep me just as safe. In the times of the greatest suffering, you are right here with me, so intimate with me. You, who are Yahweh, so I have truly nothing to be afraid of. And I especially need not fear your staff and crook for they are there to soothe me. When you tell me to do anything, when you use your staff to guide me, I can follow knowing that even though doing what you say may look like it will hurt, it will actually keep me close to you where I can be soothed. And even the act of doing what you ask of me is soothing to my soul. Even in the darkest of suffering you give that gift–and then the gift fills my soul the most.
You prepare a table for me under the eyes of my enemies. You want to give me a feast; you sit me down so that I can be filled with so much richness. And even Satan himself can see it and do nothing about it. All I have to do is follow you through whatever paths you lead me on in order to sit and be filled. Please help me to cooperate, to let go of trying to be strong, and to sit to be filled with all that nourishing, rich food you want to fill me with.
You anoint my head with oil. You set your mark on me so that everyone knows I'm yours. I can smell the sweet scent of chrism. I know that you love me and hold me as deeply special to your heart. You cherish me.
My cup brims over. I offer it to you thinking I need so much; to you it is too small. You give me so much love and grace that my big, empty heart cannot contain it. I swell with your love. I am filled with warmth, peace, passion, and confidence that I am known, taken care of, cherished, helped, led, that you are patient with me, that you want me to be with you, that you are confident in me and expect great things of me when I stay against your heart. The emptier my cup, the more you can fill it. And the more you fill it the more I want nothing at all in there except you.
Kindness and faithful love pursue me every day of my life. Every second of every day he is pursuing me to fill me to overflowing with kindness and faithful love, because he just loves me so much. He'll pursue me. But the closer I stay to him, the more he'll be able to give me. He wants to shower so much love on me. He cherishes me. He wants me to feel special and known and heard. He wants to give me my heart's desires. He wants to hold me close. And he'll keep pursuing me without giving up even if I wander away; but if I let him hold me close, only then can I feel the love and firm protection of his tender and hearty embrace.
I make my home in the house of Yahweh for all time to come. All time to come, including right now. I am at home in Abba's house right now. His house so filled with his love for me, with his peace, with his joy. Abide there every second. In his house, in his heart, where he loves me most fully.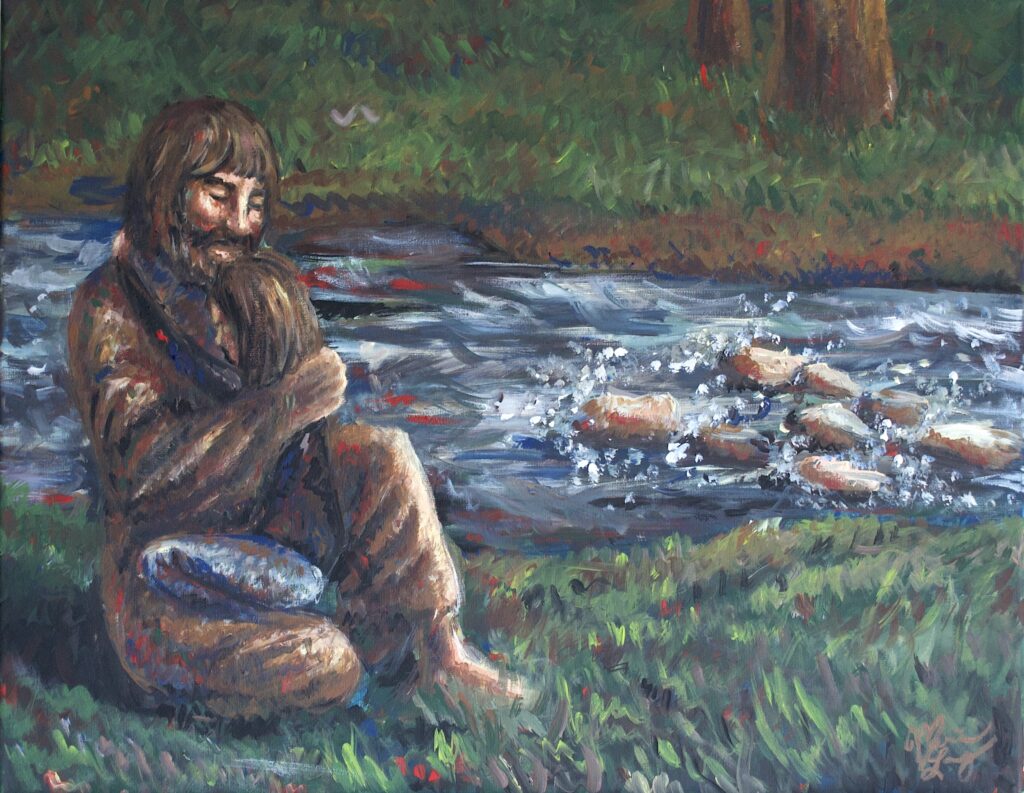 Comments
comments