Bartolomeo was born as Baccio della Porta on March 28, 1472.  He is one of the High Renaissance's most well known artists, specializing in religious subjects.  He was from Italy, and he spent many years of his life as a Dominican friar.  He was friends with the great painter Raphael.
Most striking about Bartolomeo's work is his skillful use of vibrant color, his application of light and shadow.  He brought his subjects truly alive with these finely tuned techniques.
Below are shown Vision of St Bernard with Sts Benedict and John the Evangelist,  Scene with Christ in the Temple,
The Holy Family with the Infant St John in a Landscape,  The Annunciation,
and Pieta.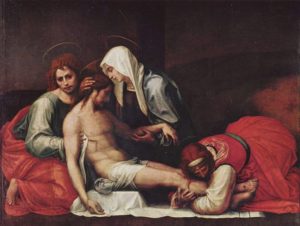 Comments
comments