Michelangelo Merisi da Caravaggio was born on September 29, 1571 in Milan.  He was an influential Italian artist of the Baroque era and was considered the most famous painter in Rome.  He is believed to have influenced several well-known and much-loved artists, including Rembrandt, Bernini and Rubens.  His work, often focused on Biblical events, had a way of making his characters' humanity real, brought to life by their convincing emotion and dramatic lighting.  (He used the technique known as chiaroscuro, which means a bold contrast between light and dark values.)
Caravaggio was commissioned to decorate altars, churches, and so on.  Many of his works featured grotesque scenes from Scripture, though some in what was considered to be extreme realism were rejected.  Imagine a saint having dirty legs or a horse whose haunches were a prominent portion of the masterpiece!  On his Conversion on the Way to Damascus, the following conversation took place with an official: "Why have you put a horse in the middle, and Saint Paul on the ground?" "Because!" "Is the horse God?" "No, but he stands in God's light!"^1
Caravaggio's gift and talent in art was the ability to make a single moment in time so vivid; he captured the most essential second of a story, drawing the viewer into the scene to be part of it.  To experience it as surely as if you were there.
Below are featured Saint Matthew and the Angel, Judith Beheading Holofernes, 
The Crucifixion of Saint Peter, St. Jerome,  
The Taking of Christ, Conversion on the Way to Damascus, 
and Supper at Emmaus.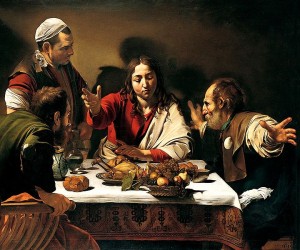 ^1 Quoted without attribution in Lambert, p.66
Comments
comments