Louis Comfort Tiffany was born on February 18, 1848.  He is best known for his stained glass art, that which he created and designed, and his name has lived on as his family stained glass company has continued to prosper.
Tiffany grew up in Pennsylvania and originally trained as a painter after attending the Pennsylvania Military Academy and Eagleswood Military Academy in New Jersey.  An example of his early work is this, Market Day Outside the Walls of Tangiers, Morocco: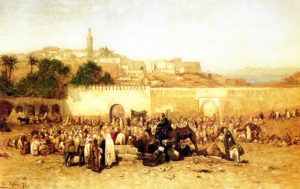 Though a talented painter, Tiffany developed an interest in glass making and actually worked in several glass houses.  He eventually opened his own glass factory in Corona, New York.  He was passionate about the art and wanted to provide quality glass which could be used for stained glass designs.  But he eventually moved on to form Tiffany Studios, which focused more on the art in glass–not simply making the glass itself.  He did open more factories, but perhaps his greatest legacy comes from the techniques he developed.  He invented what is called copper foiling, which uses thin strips of adhesive copper around the pieces of glass and soldered together all along the edges.  This allows for a more delicate and intricate designs than the heavy lead between panes had allowed.
The featured window is unique since it incorporates copper foiling and also detail paint on the larger glass pieces; Tiffany is usually recognized more for work which is entirely copper foiled.  You can tell the parts which are made with his invention; the leaves, flowers, and all such areas with small details individually surrounded by thin, dark lines are held together by copper foil and solder.
Naturally, since Tiffany started many stained glass companies, little of the work which we see is actually done by his hand.  He designed some of the originals, but it is his method and genius which lives on in the work attributed to him.
Below are shown The Holy City, Angel of the Resurrection, 
The Tree of Life,  Sermon on the Mount,
The New Creation, Christ the Consoler,
and an altarpiece which is an example of the mosaics his company also creates: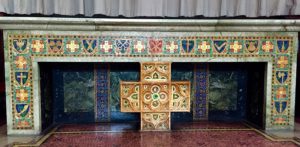 Perhaps best recognized, though, are lamps made in the image of his designs.  You've probably seen them in many homes, if you don't have one yourself:
Comments
comments