Raffaello Sanzio da Urbino was born on April 6, 1483 in Italy.  He was one of the most prominent painters of the Italian High Renaissance and is known now as Raphael.  He is regarded as highly as Michelangelo and Leonardo da Vinci, and is often remembered in their company.  His work is recognized for its clarity and natural form.
Raphael died at the young age of 37, but you wouldn't know from the wealth of masterpieces he left to the world.  Many of his works have a home at the Vatican.  He spent a significant portion of his life painting not only portable paintings but walls of the Vatican Palace, and he worked on commissions from several popes.
In his workshop, Raphael had 50 assistants and pupils, and he had such a strong influence on them that many went on to become great artists.
Below are shown some of his greatest works.
The first two are of the same image, the second a detail of the first.  When Raphael was painting the Sistine Madonna, two young boys eagerly watched him as he worked, looking up to him with awe and admiration.  He added them into the painting as cherubs.
Sistine Madonna and the detail of the cherubs,
Transfiguration,  Deliverance of Saint Peter,
and The Holy Family.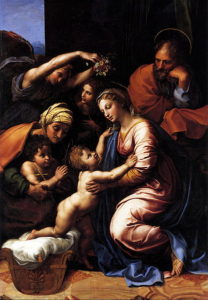 Comments
comments