Govert Flinck was born on January 25, 1615 in the Dutch Republic.
Flinck became associated with Rembrandt when he moved in with the painter's wife's relatives' neighbors (how's that for association?!).  Flinck was secretly interested in art at the time and became one of Rembrandt's best pupils.  It is no wonder that his style reflects that of the master; the subjects of his paintings are radiant with a vibrant light and liveliness.  But with dreams to become a painter of history, he was also inspired by Peter Paul Rubens.
Shown below is one of Flinck's first works, Blessing of Jacob.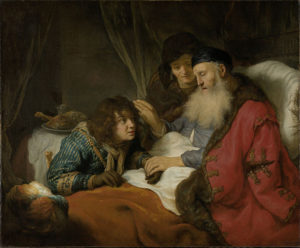 Comments
comments