Norman Rockwell was born on February 3, 1894 in New York City.  Most people recognize him as the illustrator of The Saturday Evening Post magazine cover, a weekly dispatch to which he contributed for more than fifty years.
Rockwell left high school to join the Chase Art School when he was only fourteen years old.  He got into illustration early, with a book and Boys' Life magazine.  When he first began to submit artwork for the cover of The Saturday Evening Post, his work was accepted eight times in one year, and soon was hired as a regular illustrator.  He left Boys' Life but continued to include the Boy Scouts in his illustrations frequently.  His work also includes portraits of famous people such as President Eisenhower, illustrations in Tom Sawyer and Huckleberry Finn, and inspirational WWII posters like Rosie the Riveter.
Rockwell created more than 4,000 works of art.  He painted everyday life, often humorously, and he chose to focus on the positive moments which frequented people's lives.  He was particularly skilled in bringing alive emotion, capturing fantastic facial expressions.  He was generally considered to be more of an "illustrator" than and "artist," and he shared this opinion about himself.
When a great artist has more than 4,000 works, it can be hard to narrow down one's favorites!  But here are just a few of mine.
To see more of Norman Rockwell's work, click here: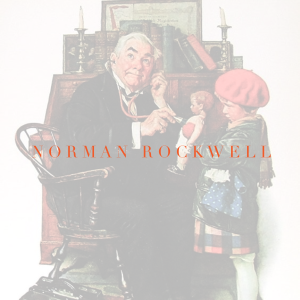 Comments
comments