Joaquín Sorolla was born on February 27, 1863 in Valencia, Spain.  He painted portraits and landscapes, but he is best recognized for his beach scenes, with their warm sunlight and reflections on the water.
Sorolla was so well recognized that he received a medal of honor and was nominated as Knight of the Legion of Honor, among other notable achievements.
Sorolla did not prefer to paint portraits since he did not feel that he could sufficiently channel his creativity there, but he managed to get around this by placing his subjects outside in the sunshine he so loved.  His family members, particularly his wife, appeared again and again.  These were the things he loved most: family first, but the warmth of the sun seems to have brought him alive in a special way as well.
Below are shown The Young Amphibians,  Three Sails,
My Wife and Daughters in the Garden,  Strolling Along the Seashore,
and On the Beach at Valencia.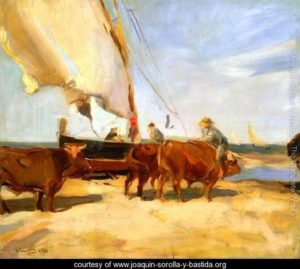 Comments
comments