Winslow Homer was born on February 24, 1836 in Boston.  He painted landscapes, particularly marine scenes, capturing in loose brush strokes the wild spirit of the vastness of nature.  You can nearly feel the wind in his paintings when you let yourself enter into the scenes.  You can sense the mist in the sea breeze enveloping your body, penetrating your soul.  Homer is a pivotal figure in American art, and much of his work is a chronicle of his travels.
Like so many artists, Homer was the son of a parent passionate about art.  His mother was an amateur watercolor painter, and she introduced him to her art.  They maintained a close relationship throughout their lives.
Homer had some opportunities to work for magazines, but his spirit of freedom which emanates from his paintings triumphed.  He would not work for anyone else; he would be his own master in his artistic passions.  He worked as a freelance illustrator for many years.
Homer was inspirational to American artists for many generations to come.  His work throbbed with subtle emotion and a connection between humanity and nature in a very tangible way.  Others could only dream to emulate the particular passion he communicated through his art.
Below are shown The Bridle Path, White Mountains;  Sunlight on the Coast;
Hudson River;  A Fresh Breeze;
Girl Carrying a Basket;  Moonlight, Wood Island Light;
Shepherdess Tending Sheep;  Breezing Up (A Fair Wind);
Girl and Laurel;  On the Stile; 
and The Reaper.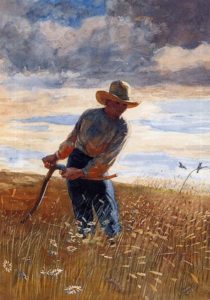 Comments
comments